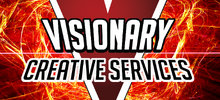 The Visionary Creation Wiki is the largest, most reliable, and most up-to-date reference about everything related to the Visionary Creation, the fictional setting of the collected properties owned and managed by Visionary Creative Services.
This project is a wiki, meaning that anyone may edit content by clicking on the EDIT link that appears on every wiki article that is not designated as a protected page. This makes it very easy for any fan to share their knowledge and insight of the setting and add to the collected information available. This can happen in two ways.
First, fans are encouraged to add information which references actual canon, basically any story content that has been released through any medium. Articles as well as edits and/or expansions of such articles are always welcome.
However, the Visionary Creation Wiki also offers another exciting and unique opportunity: the ability to add original content. Through open invitation from Visionary Creative Services, fans are invited to add original content and material to the Wiki in order to expand and enrich the Visionary Creation. (For more details, please see our Main Page and associated links.)
All of the site's content is covered by a GNU Free Documentation License. Contributions remain the property of their creators, while the copyleft licensing ensures that the content will always remain freely distributable and reproducible. See the copyright statement for more information. "Visionary Creation" and related names are registered trademarks of Visionary Creative Services. This site is intended solely for non-profit purposes. No copyright infringement is intended. All content herein may also be considered to be mentioned or featured in any Visionary Creation production, as that is in part the purpose and spirit of this wiki. (See Visionary Creation Wiki:Copyrights and Visionary Creation Wiki:General Disclaimer for more information.)
Warning: Visionary Creation Wiki contains spoilers! Every Visionary Creation based story in active or past publication through printed, digital, or other means, whether in comic, prose or video format is considered open to referencing herein.
Ad blocker interference detected!
Wikia is a free-to-use site that makes money from advertising. We have a modified experience for viewers using ad blockers

Wikia is not accessible if you've made further modifications. Remove the custom ad blocker rule(s) and the page will load as expected.